Mr. Takato Nakano conducted MIP Interdisciplinary Joint Research at North Carolina State University
With the support of MIP, I conducted collaborative research for two months at North Carolina State University in the United States.
North Carolina is well known for an academic hub, called the Research Triangle Park. In addition to North Carolina State University, where I did my internship with the generous support from MIP, there are campuses of Duke University and the University of North Carolina. The universities actively collaborate with industry sectors, and as I walked through the campus, I saw many logos and signs of start-ups. The city has abundant greenery, good security and comfortable climate, and that environment allows me to focus on my research. Professor Tsuji's lab, where I stayed, actively engaged in joint meetings and conferences. The people in the lab were very open for discussions, and I got a lot of inspiration through communication.
The life and research in US were valuable experience, and I deeply thank to everyone involved and to MIP for their support. I hope to apply the knowledge and experiences gained during this stay to my future research.
Takato Nakano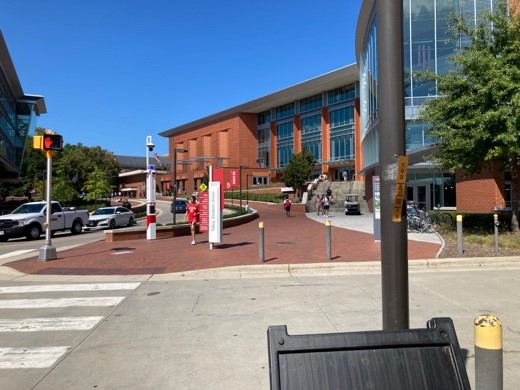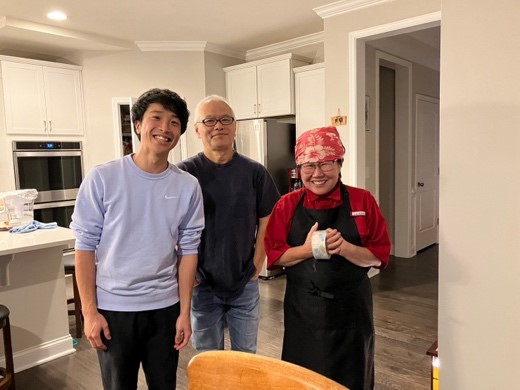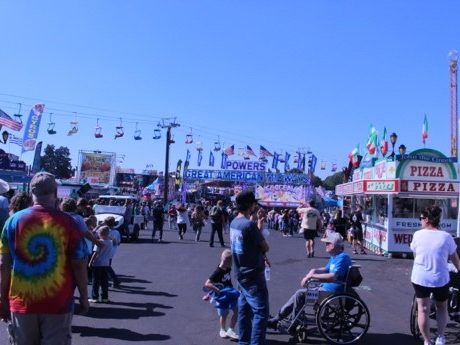 MIP Innovation Exchange
On 15th, MIP student Ryo and Fatima volunteered to provide the topic of the day and MIP friends talked over a cup of tea.
We hope to hold the event again soon.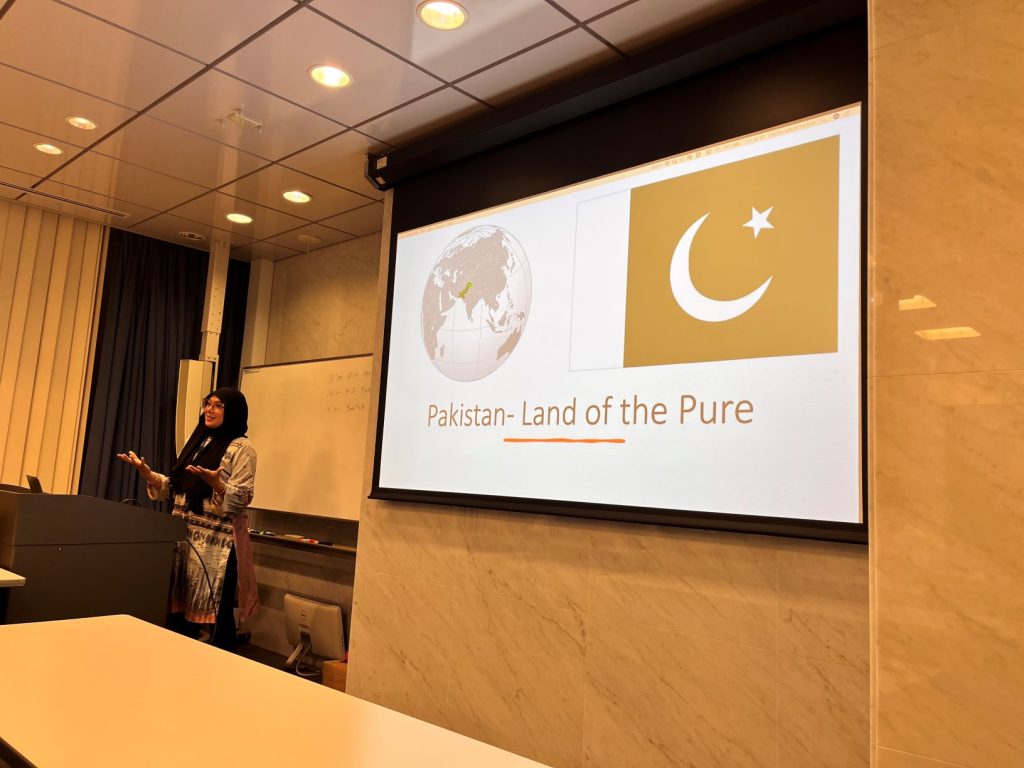 From Ryo Niwa:
On September 15th, we held an event called "Innovation Exchange".
Ten participants enjoyed communicating in English. Ms. Hafiza Ishrat Fatima gave a presentation about her home country, Pakistan.
This event expanded the network of doctoral students.
We look forward to promoting more vibrant interactions in the graduate program.
This gathering aims at fostering discussions and friendships both within and outside the program.
The topic covers research, personal experiences, the culture of their home country, and so on.
With our diverse student composition, it is requested for everyone to communicate primarily in English to ensure an inclusive environment.
MIP students visited San Diego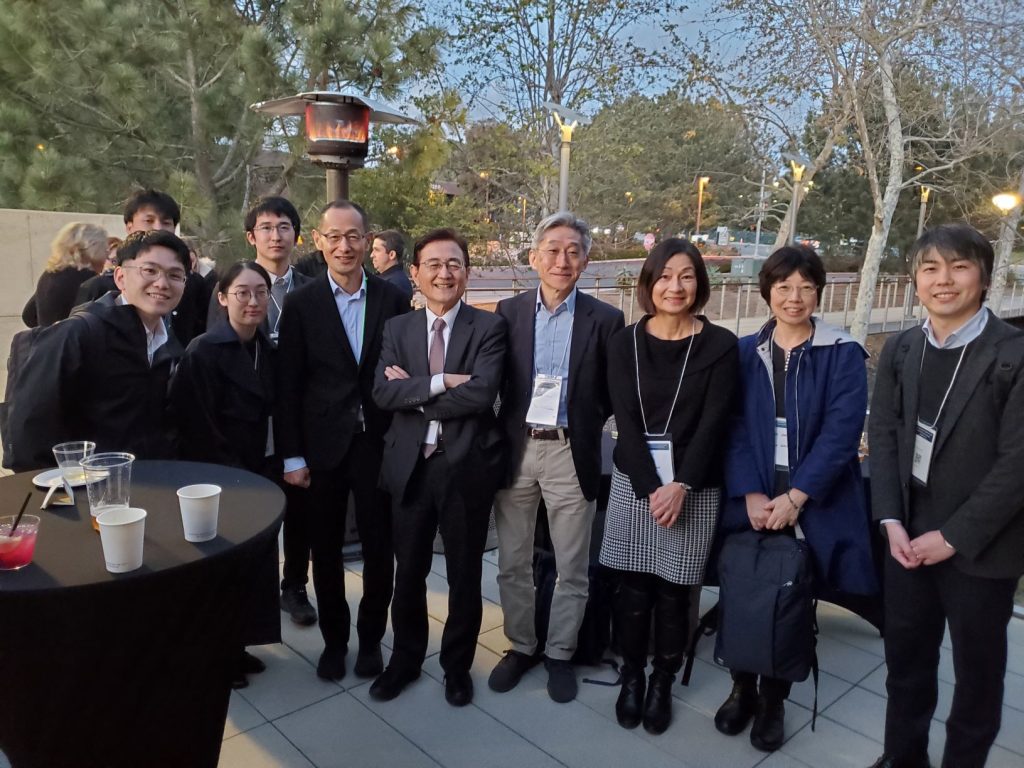 From 26 February to 3 March 2023, five MIP students has visited UCSD to attend various events. MIP is grateful to all the researchers and institutions for providing us such a wonderful opportunity.
Dr. Watanabe, MIP coordinator feels that the students have changed however the visit was a short period of time. Such a dynamic research and industrial activities of medical, pharmaceutical, healthcare field as well as the forefront of the venture businesses that they have seen at San Diego has certainly broaden their future career.
On 27 and 28 February, at UCSD, Kyoto University Life Science Showcase and a symposium "Transformative Innovations in Medical and Life Sciences" were held providing the students chances to feel the reality of start-up businesses and cutting-edge research.
Dr. Suzuki of KUMBL accompanied students to internationally competitive pharmaceutical companies and laboratories where they had opportunities to introduce their research themes and interact with researchers. Their activities in massive scale and progress in speed have impressed our students in depth.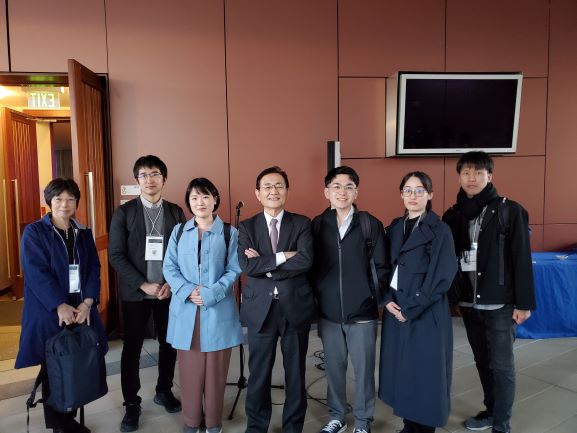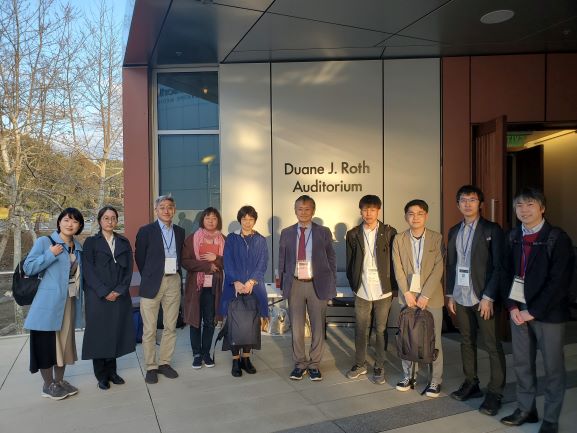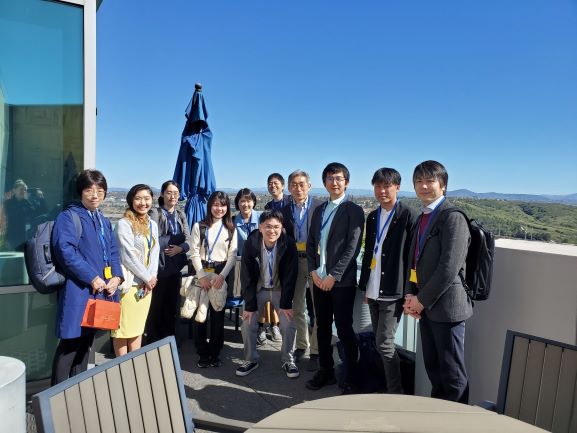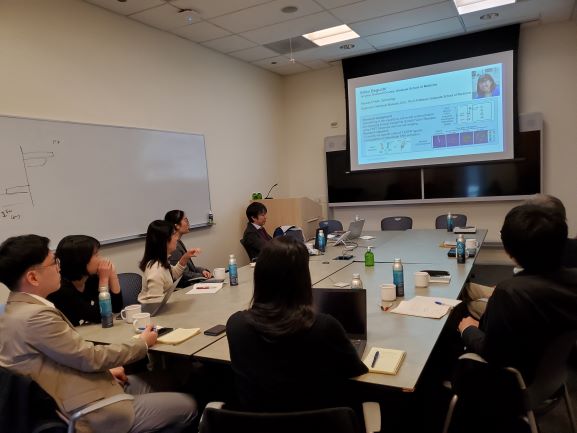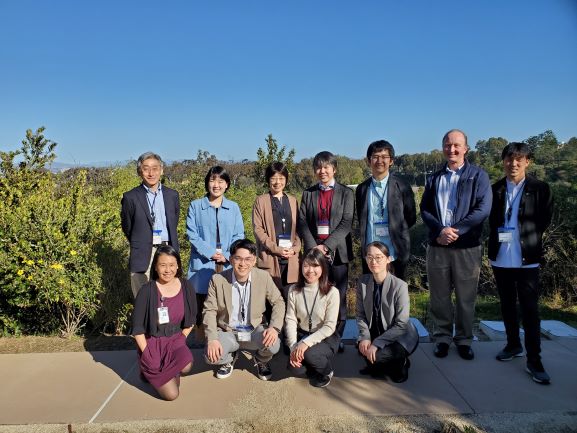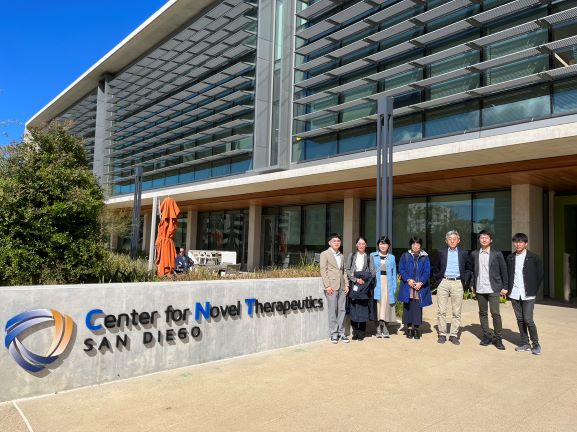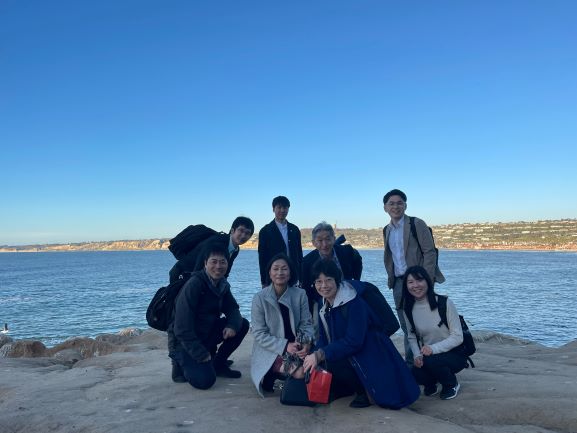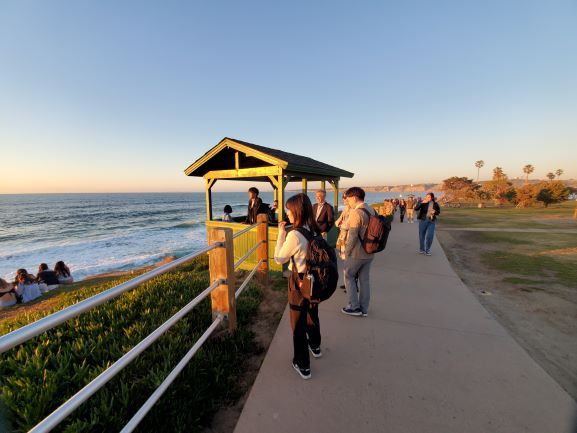 Students' Reports
Ryo Niwa
(1st year, Doctoral Course, Medical Science)
During my time in San Diego, I had several opportunities to speak with modern medical innovators, who all unanimously taught me the importance of "people" in business. The phrase "right person in the right place" is indeed appropriate, and I learned that finding and collaborating with the most necessary talent is essential for innovation. In particular, I felt that it was important to have experienced innovators join the team as mentors, to identify the necessary elements for innovation and work together as a team. When taking on challenges that mostly end in failure, it became clear to me that it is crucial to find talented individuals with experience in leading others to success, in order to increase the chances of success.
*
Mami Ishibashi
(1st year, Doctoral Course,  Medicine)
As a dermatologist, I have had the opportunity to prescribe antibody drugs, and have witnessed firsthand the remarkable therapeutic results that molecular-specific drugs have achieved compared to existing treatments for refractory skin lesions such as atopic dermatitis and psoriasis vulgaris. I was not very familiar with the process of drug discovery, and my project for the degree was not directly aimed for developing new drugs, but through this exposure, my perception of drug discovery has totally changed. I realized that the development of therapeutic drugs is directly related to the elucidation of disease mechanisms through basic research, and that the study of diseases goes hand in hand with the discovery of new drugs. Thank you very much for giving me such a valuable experience.
*
Amiri Matsumoto
(2nd year, Doctoral Course, Human Health Science)
I had only experience of research activities in my laboratory and clinical work as an occupational therapist at Kyoto University Hospital, and I was vague about my career. Listening to Japanese professors who are actually conducting research or clinical work in San Diego, I was inspired to consider the option of working not only in Japan but also globally. Through the opportunity to listen to people from startup and venture companies, I strongly felt the necessity to translate the results of research activities into practice in society, and I was able to have a clear picture of these processes. Also, in the tours of corporate laboratories, I was very impressed to observe the state-of-the-art facilities where world-leading research results are produced.
*
Keisuke Aoki
(2nd year, Doctoral Course, Bioinformatics and Chemical Genomics)
I am very grateful to everyone who has helped me to gain this valuable experience in San Diego. At first, I was both excited and nervous about my first visit to the U.S., but I really enjoyed the full program including attending the symposium, interacting with top researchers, visiting laboratories and companies, UCSD tours, and the beautiful scenery in San Diego. To be honest, before this visit, I had a yearning to study abroad, but I thought I would never do so. However, the few days I spent in San Diego made me less hesitant about studying abroad in the future. Although there were many occasions when I strongly felt that my English skills were not good enough, I wanted to become a person who is active overseas, just like the people I interacted with.
It was a very fulfilling few days!
*
Yuki Hashizume
(2nd year, Doctoral Course, Medical Science)
I appreciate the support of all parties involved, including MIP. I experienced two major things during this visit to UCSD.
First, I was able to learn about the research and development being conducted at international companies in the U.S. I was able to hear about research that is different from what I am used to through visits to Eli Lilly, Devacell, Novaltis, JLABS by Jhonson & Jhonson, and participation in the Life Science Showcase.
I was particularly impressed by the efficiency and speed of development at large pharmaceutical companies. It reminded me of a factory, with machines performing tasks with as little human intervention as possible. I was overwhelmed, but at the same time, I felt it was important to use my "brain" to decide what to target in my activities.
We were also given the opportunity to hear about our own research in front of people from companies. The comments also allowed me to learn how my research looks from the company's point of view.
Second, I visited the onsite LAB at Kyoto University's UCSD and participated in the North American On-Site Laboratory Joint Symposium. I was able to listen to lectures by researchers and interact with local graduate students. That was an experience that would have been difficult to obtain in Japan.
Through this visit, I was able to reconfirm the importance and interest of my own research activities. It was also a good opportunity to rethink my future career. I would like to utilize this experience and try hard in the future.
*MIP would like to express our appreciation to all the support and warm welcome for the people and institution who supported our visit:

Dr. Tomoko Hayashi
Head of SCIENCE and INNOVATION for the NEXT GENERATION (SING)

Stephanie Truhlar, Associate VP, Lilly Biotechnology Center
Andrew Korytko, Associate VP, LBC External Innovation
Katie Hewitt, Chief Business Officer, Lilly Innovation Solutions
Jonah Rainy, Senior Director, Protein Engineering
Gurkee Singh, Associate VP, Lilly New Ventures Asia
Dr. Hans Keirstead, Director,
Eli Lily at San Diego

Mr. Jeff Sturgis, Chief Operating Officer
DevaCell at CNT

Dr. Miwako Waga
Center for the Future of Surgery @ UCSD

Juliane Morris, Contractor, Innovation Activation Specialist
JLABS @ San Diego

Dr. Sharon Kwan
Novartis @ San Diego

Dr. Yuko Kono
MD, PhD, FAIUM, FAASLD. UCSD
Ms. Eriko Deguchi conducted MIP Interdisciplinary Joint Research at University of Pittsburgh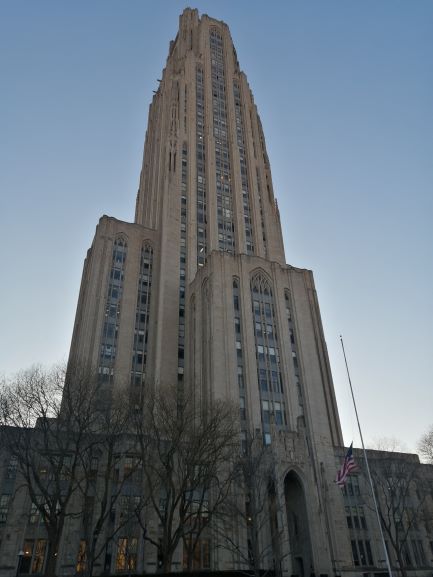 With the support of MIP, I have conducted joint research at the University of Pittsburgh for one month.
The UPMC (University of Pittsburgh Medical Center), where I stayed, is a world-famous hospital. They have excellent research facilities. For example, the Imaging Center located in the lower floor of the laboratory I belonged, provides 40 microscopes. In such an inspiring research environment, my project has advanced much more than usual one month, I was very grateful for this experience.
The University of Pittsburgh is about 20 minutes by bus from downtown, and there are many sites related to its culture and history; Carnegie Mellon University, parks, museums, art galleries. It is also known as a students' city where lots of dormitories and share houses are found. The area attracts tourists and they can be seen on weekends. Overall, the city is safe and very comfortable to live, it was an agreeable environment for researchers.
I am grateful for the support of MIP, which gave me the valuable experience of conducting research overseas. I would like to continue my joint research by making use of what I learned during my stay.
Eriko Deguchi