【Nov.8】Paper writing seminar "Publishing in Chem and Cell Press"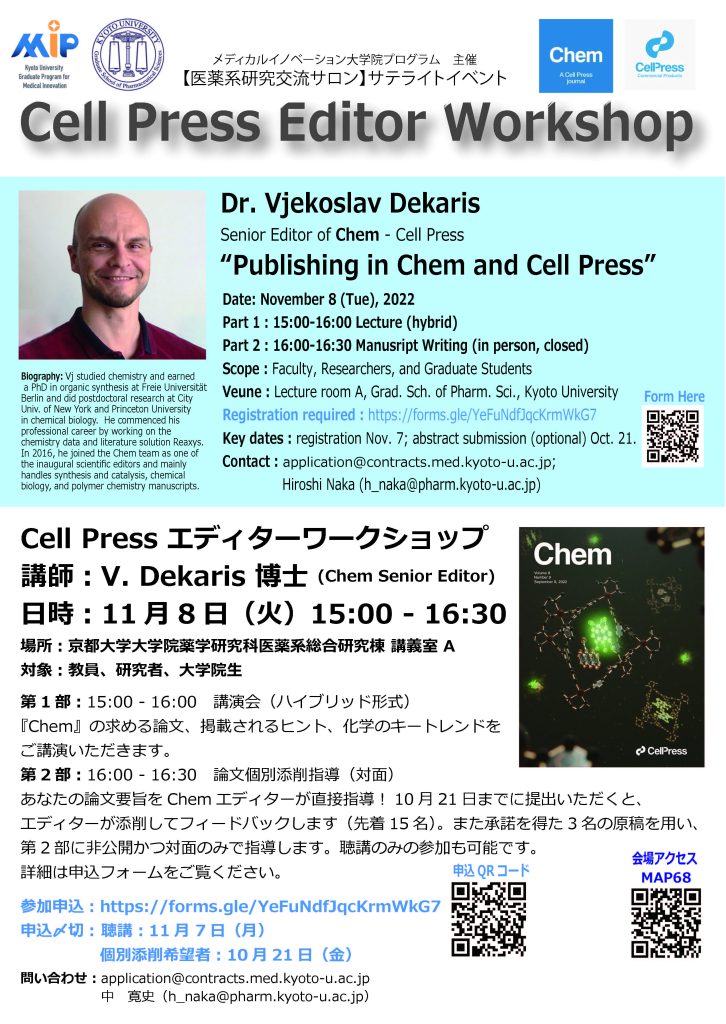 Workshop: " Publishing in Chem and Cell Press "
Dr. V. Dekaris, a senior editor of "Cell Press" will hold a seminar at Kyoto University.
He will touch the strategies and tips in writing a scientific paper. Since this is a valuable opportunity for us to interact with a current senior editor on site, please consider to join this seminar.
In the second part, which is onsite only, Dr. V. Dekaris will tutor you on your paper abstract.
Date and Time
8 November 2022 15:00~16:30
Part 1: 15:00-16:00 lecture (hybrid format)
Part 2: 16:00-16:30 Individual instruction for paper (face-to-face only)

[Venue]
Seminar Room A of Med-Pharm Collaboration Building. (MAP-68)
  OR
zoom online meeting

[Language]
English
Registration
[Registration Deadline]
7 November (Monday) for attendance only
21 October (Friday) for Individual instruction request
Contact
If you have any inquiry regarding this seminar, please contact:
application@contracts.med.kyoto-u.ac.jp